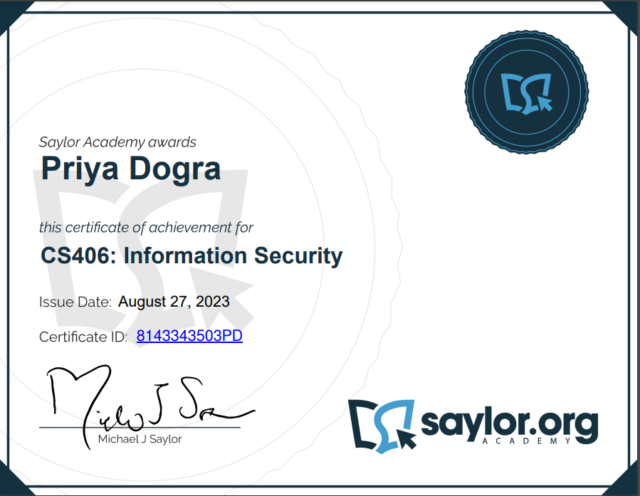 About this Course :
The first network was invented in the late 1960s with the birth of ARPAnet, a project launched by the US Department of Defense (DoD). That network advanced into what is now known as the Internet and has grown into a global phenomenon to become an integral part of our daily lives. The Internet connects the world on a social, business, and governmental level. So much information is stored and transferred online that the Internet has become a target for criminals. Any devices connected to the Internet must be protected from unauthorized disclosure using tools prescribed by the discipline of information security.
This course covers information security principles, an area of study that engages in protecting the confidentiality, integrity, and availability of information. Information security continues to grow with advancements in technology – as technology advances, so do threats, attacks, and our efforts to mitigate them. In this course, we discuss the modes of threats and attacks on information systems. We also discuss an important area of threat mitigation that saw rapid development in the twentieth century: cryptography. Information security is concerned with user identification and authentication and access control based on individual or group privileges. The basic access control models and the fundamentals of identification and authentication methods are included in this course.
Course Syllabus :
Unit 1: Introduction to Information Security
Unit 2: Threats and Attack Modes
Unit 3: Cryptographic Models
Unit 4: Access Control
Unit 5: Identification and Authentication
Unit 6: Network Security
Unit 7: Operating System (OS) Security
Unit 8: Intrusion Detection and Prevention Systems
Unit 9: Privacy Laws, Penalties, and Privacy Issues
Certification :
To receive a free Course Completion Certificate, you will need to earn a grade of 70% or higher on this final exam. Your grade for the exam will be calculated as soon as you complete it. If you do not pass the exam on your first try, you can take it again as many times as you want, with a 7-day waiting period between each attempt.
GET COMPLETE DETAILS : CLICK HERE